Just last year our local municipality put in place new recycling rules. They are absolutely ridiculous. You see, we live in a very green and environment conscious city. That means we have to recycle everything. And I mean everything!
All kitchen scraps must be tossed into a new bin and put out on the curb come garbage day. This causes some very smelly households and people eat a lot and the fact that all kitchen scraps are to be tossed into a separate bin is silly. Does your city or municipality have silly laws and rules put in place when it comes to this?
If so, read about a simple solution to this potentially smelly problem.
Gaburators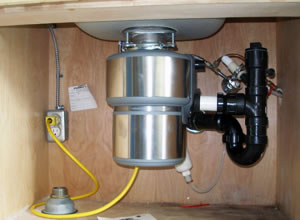 A garburator crushes kitchen scraps to a pulp. It works kind of like a sink drain as it's placed where the top of a drain would sit. The above photo is what it looks like underneath the sink.
If you want to learn how they work, check out the wikipedia article. You can also the video below.
It has saved the smell of our home. I didn't want to resort to using Fabreeze all the time as that stuff is loaded with chemicals. There had to be an easier way to get rid of our kitchen scraps. The garburator has done just that.
We were also finding that our giant scrap bin, which was located outside, was attracting racoons. They would always crash the bin over and dig through the scraps. Guess who had to clean that up? The homeowner!
With a garburator we don't need to deal with that crap!
They are really easy to install and you don't need an appliance repair company in Toronto to do the install.